My Blog
Posts for: May, 2019
By Worcester Dental
May 14, 2019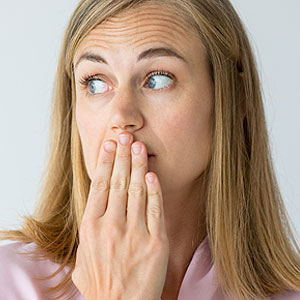 A loose adult tooth isn't normal. It could be loose because it's been subjected to high biting forces like those that occur with a tooth grinding habit. Or, it could be the result of periodontal (gum) disease or some other infection that has weakened some of the tooth's supporting gums and bone. Whatever the underlying cause, we'll need to act quickly to save your tooth.
Our first step is to find out this exact cause—that will determine what treatment course we need to follow. For a tooth grinding habit, for example, you might need to wear an occlusal guard or have your bite (teeth) adjusted. With gum disease, we'll focus on removing dental plaque, the thin film of bacteria and tartar (calculus) fueling the infection. This stops the infection and minimizes any further damage.
While we're treating the cause, we may also need to secure the loose tooth with splinting. This is a group of techniques used to join loose teeth to more stable neighboring teeth, similar to connecting pickets in a fence. Splinting can be either temporary or permanent.
Temporary splinting usually involves composite materials with or without strips of metal to bond the loose tooth to its neighbors as the periodontal structures heal. Once the tooth's natural attachments return to health, we may then remove the splint.
There are a couple of basic techniques we can use for temporary splinting. One way is to bond the splint material to the enamel across the loose tooth and the teeth chosen to support it (extra-coronal splinting). We can also cut a small channel across all the affected teeth and then insert metal ligatures and bond the splint material within the channel (intra-coronal).
If we're not confident the loose tooth will regain its natural gum attachment, we would then consider a permanent splint. The most prominent method involves crowning the loose tooth and supporting teeth with porcelain crowns. We then fuse the crowns together to create the needed stability for the loose teeth.
Whatever splinting method we use, it's important to always address the root cause for a tooth's looseness. That's why splinting usually accompanies other treatments. Splinting loose teeth will help ensure your overall treatment is successful.
If you would like more information on treating loose teeth, please contact us or schedule an appointment for a consultation. You can also learn more about this topic by reading the Dear Doctor magazine article "Treatment for Loose Teeth."
By Worcester Dental
May 04, 2019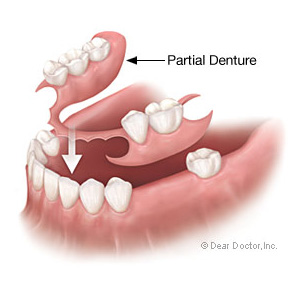 If you have a few missing teeth but can't afford dental implants or fixed bridgework, consider a removal partial denture (RPD). Although implants may be the superior choice aesthetically and functionally, an RPD can still effectively give you back your teeth.
RPDs are designed to replace one or more missing teeth but not a full arch like a full denture. Considered a permanent restoration, RPDs are also more durable than transitional "flippers," denture appliances that are flexible and light enough to be flipped out of the mouth with a flick of the tongue.
The key to both their affordability and durability is vitallium, a strong but lightweight metal alloy most often used in their frame construction. To it we attach artificial teeth usually made of porcelain or glass-filled resins that occupy the precise location of the missing teeth on the gum ridge. The artificial teeth and frame are surrounded by gum-colored plastic for a more natural look.
Each RPD is custom-made depending on the number and location of the missing teeth. Its construction will focus on minimizing any rocking movement of the RPD during chewing or biting. Too much of this movement could damage the adjacent teeth it's attaching to and cause the appliance to be uncomfortable to wear. We can stabilize the frame by precisely fitting it between teeth to buttress it. We also insert small rests or clasps made of vitallium at strategic points to grip teeth and minimize movement.
RPDs do have some downsides: their unique attachment with teeth encourages the accumulation of dental plaque, the thin bacterial film that's the leading cause of tooth decay and periodontal (gum) disease. These diseases can affect your remaining teeth's health and stability, which could in turn disrupt the fit of the RPD. Also, too much movement of the appliance can make the teeth to which it's attached become more mobile. It's important, then, if you wear a RPD to remove it daily for cleaning (and to thoroughly brush and floss your natural teeth), and to remove it at night to give the attaching teeth a rest.
A RPD can give you back the teeth you've lost for many years to come—if you take care of it. Maintaining both your RPD and the rest of your teeth and gums will help extend the life and use of this effective and affordable replacement restoration.
If you would like more information on teeth replacement options, please contact us or schedule an appointment for a consultation. You can also learn more about this topic by reading the Dear Doctor magazine article "Removable Partial Dentures: Still a Viable Tooth-Replacement Alternative."