My Blog
Posts for tag: root resorption
By Worcester Dental Associates
February 02, 2021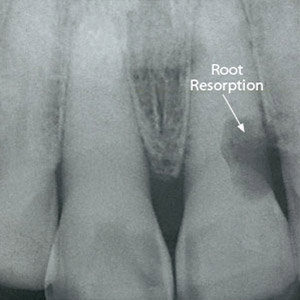 Most dental problems are caused by tooth decay or periodontal (gum) disease, easily preventable with dedicated daily hygiene and regular dental care.  But there are a few other rare conditions to be on alert for that could pose just as serious a threat to your dental health.
One of these is a phenomenon called root resorption. Put simply, certain cells arise within a tooth root that eat away and dissolve (resorb) tooth structure. Left unchecked, it could eventually lead to the tooth's demise.
Although its exact cause remains elusive, we suspect root resorption is associated with trauma to the gum ligaments earlier in life, perhaps from an injury or too much force applied during orthodontics. Other possible contributing factors include teeth-grinding habits or internal tooth bleaching procedures.
Root resorption in adults isn't that common, so your chances of experiencing it are low. But it is still possible, so you should be on the lookout for potential signs: Early on, it may appear as faint pink spots on teeth where the enamel has filled with the destructive cells eating away at the tooth. In time, these spots can increase to form cavities.
More than likely, though, your dentist may detect the problem during a dental exam. That's why regular dental cleanings and checkups are essential—a routine exam is a prime opportunity to uncover conditions like root resorption that silently undermine your teeth.
If found early, we can often treat root resorption effectively. We can often expose a small affected area with minor gum surgery, remove the harmful cells and fill any cavities with a tooth-colored filling. In some cases, we may recommend orthodontics beforehand to encourage a buildup of bone around the root by moving the affected tooth outward from the jawbone. If the resorption has affected the tooth pulp, you may also need a root canal treatment.
There is also the possibility with advanced resorption that the best course of action is to remove the tooth and replace it with a dental implant. So, keep up your regular dental visits—early detection and intervention can stop this destructive dental condition from destroying your tooth.
If you would like more information on root resorption, please contact us or schedule an appointment for a consultation. You can also learn more about this topic by reading the Dear Doctor magazine article "Root Resorption: An Unusual Phenomenon."
By Worcester Dental
April 04, 2019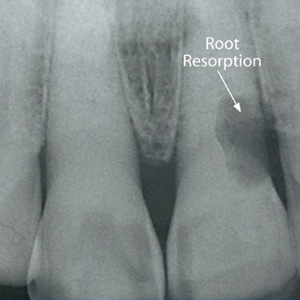 As your dental provider, we're always alert for signs of tooth decay or periodontal (gum) disease, the two leading causes of tooth loss. But we're also watching for less common conditions that could be just as devastating.
Root resorption falls into this latter category: it occurs when a tooth's root structure begins to break down and dissolve (or resorb).  It's a normal process in primary ("baby") teeth to allow them to loosen and give way when permanent teeth are ready to erupt.
It's not normal, though, for permanent teeth. Something internally or—more commonly—externally causes the root structure to break down. External resorption usually occurs at the neck-like or cervical area of a tooth around the gum line. Known as external cervical resorption (ECR), it can first appear as small, pinkish spots on the enamel. These spots contain abnormal cells that cause the actual damage to the root.
We don't fully understand how root resorption occurs, but we have identified certain factors that favor its development. For example, it may develop if a person has experienced too much force against the teeth during orthodontic treatment. Injury to the periodontal ligaments, teeth-grinding habits or some dental procedures like internal bleaching may also contribute to later root resorption.
Early diagnosis is a major part of effective treatment for root resorption. Because it's usually painless and easily overlooked, resorption is often too difficult to detect in its early stages without x-rays—a good reason for regular dental exams. Beginning spots or lesions are usually small enough to surgically remove the tissue cells causing the damage and then filled with a tooth-colored filling material. If it has advanced further, we may also need to perform a root canal treatment.
At some point, the damage from root resorption can be too great, in which case it might be best to remove the tooth and replace it with a dental implant or similar restoration. That's why catching root resorption early through regular dental exams can give you the edge for saving your tooth.
If you would like more information on diagnosing and treating root resorption, please contact us or schedule an appointment for a consultation. You can also learn more about this topic by reading the Dear Doctor magazine article "Root Resorption: An Unusual Phenomenon."